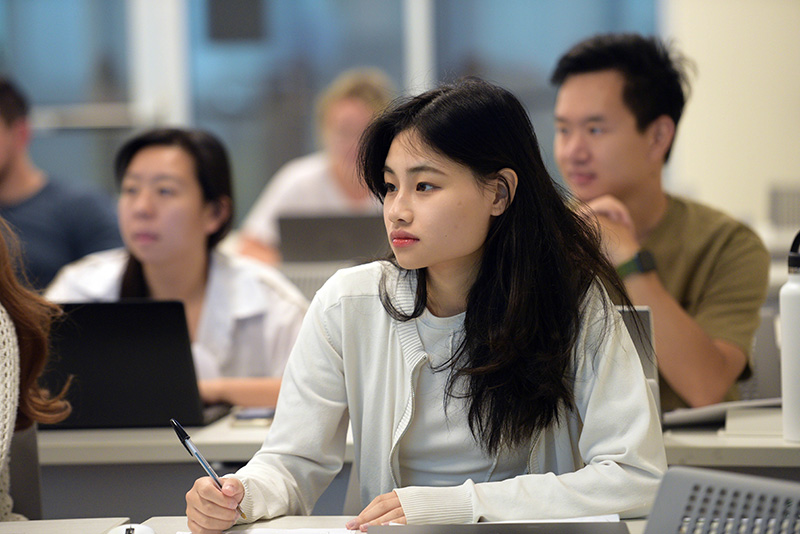 International students who plan on participating in the Online Master of Business Administration from their home country will be considered for admission. International students must meet the standard admissions requirements and submit the materials outlined on our admissions page.
Additionally, applicants who are not citizens of countries where English is the official language will need to submit scores from the Test of English as Foreign Language (TOEFL), the academic International English Language Testing System (IELTS), the PTE Academic or the Duolingo English Test.
Minimum test scores are as follows (submit one):
Academic IELTS: an overall band score of 6.0 with no individual score below 5.0
TOEFL: 600 on paper-based or 100 on Internet-based
PTE Academic: 68
Duolingo English Test: 110
Individuals who may be exempt from this requirement include those who hold a bachelor's, master's or doctoral degree from an institution in which English is the language of instruction and the official language of the country in which the university is located, or who hold a bachelor's, master's or doctoral degree from an institution that is accredited by a U.S. regional accrediting body.
International students will also need to provide a course-by-course transcript evaluation for education completed outside of the United States. Preferred evaluators include:
Note: The Online MBA program is not eligible for immigration sponsorship by Tulane University. Participation in the program is online, and an I-20/DS-2019 document will not be issued. If you are an international student interested in our on-campus graduate business programs, visit our webpage or contact us at abfadmit@tulane.edu.
Get the Online MBA Program Brochure
To download a program brochure and learn more about the Online Master of Business Administration offered by the A. B. Freeman School of Business at Tulane University, please fill out the form. You can also get in touch with an admissions counselor directly by calling us toll-free at 800-856-9981.