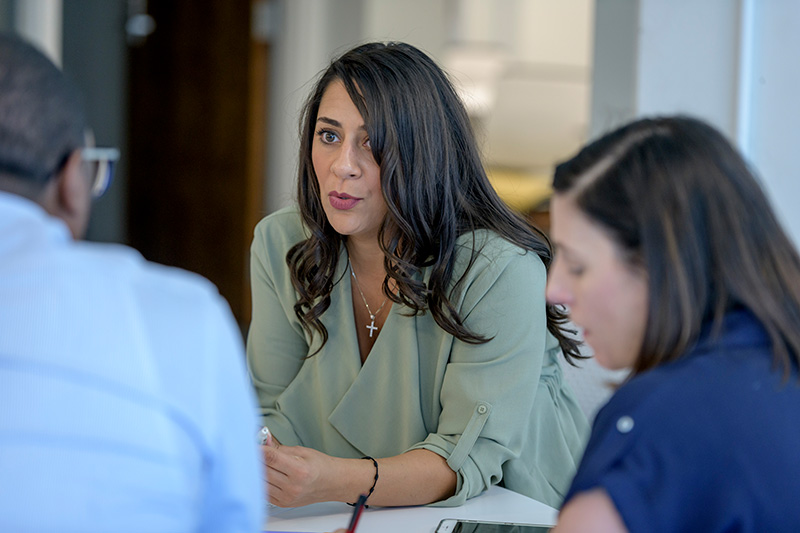 Online MBA Tuition
A 17 percent scholarship will be applied to the total tuition amount for Online MBA students. For questions regarding tuition and the Online MBA scholarship, get in touch with an admissions counselor.
| | |
| --- | --- |
| Cost Per Credit Hour | $1,825 |
| Total Credits | 46 |
| Total Tuition | $83,950, with a 17% discount = $69,679* |
| Estimated Books and Supplies | $900/year |
| Academic Support Fee | $100 per credit hour |
*The estimated tuition cost is for 46 credit hours at the current tuition rate, which will remain constant for two years.
Financial Aid Options
Students in the Online MBA program may apply for financial aid. Our FAFSA school code is 002029. Visit our Financial Aid website for details on how to complete the aid application process.
Students may request that the cost of a new computer (along with other specific allowable expenses) up to $2,500 be added to their budget as outlined in the "Financial Aid Policy for Inclusion of Computer Cost in a Student's Cost of Attendance." Please refer to the Financial Aid website to see the specific documents required to allow this one-time expense.
Please note that the costs of potential, optional in-person events are not eligible for federal financial aid.
Veteran Benefits
Students using veteran education benefits must complete the Veterans Enrollment Form each term. Learn more about veteran education benefits.
The Freeman School of Business appreciates the service of U.S. veterans and is proud to assist U.S. veterans in meeting their education and career goals. Tulane University participates in the Yellow Ribbon Program, and the Freeman School has established a generous Yellow Ribbon fund for graduate business students. Students eligible for 100% of their Post 9/11 G.I. Bill (Chapter 33) benefits may have their tuition fully or partially covered through a combination of G.I. Bill benefits and the Yellow Ribbon Program (funded by Freeman). See the Student Veterans Services website for details and how to apply.
Get the Online MBA Program Brochure
To download a program brochure and learn more about the Online Master of Business Administration offered by the A. B. Freeman School of Business at Tulane University, please fill out the form. You can also get in touch with an admissions counselor directly by calling us toll-free at 800-856-9981.